Step into the exposed collection of the Resistance Museum

Here you can find some exceptional objects from our collections on display: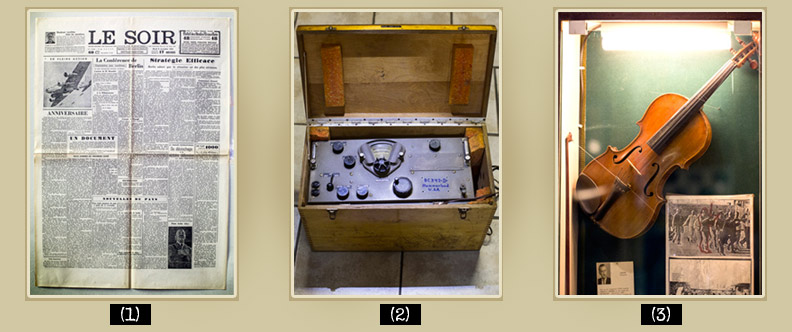 (1) Journal of "Faux Soir" of November 9, 1943 published by the Underground Press of "Front de l'Independance"
(2) Radio set from an allied bomber superforteress USB17 recovered by the Resistance.
(3) Violin used at Mauthausen Concentration Camp during the macabre scene during execution of prisoners.
Archive group
The Resistance Museum of Belgium administers an archival collection.
It provides the analysis, conservation and recovery.
Several thousand records are inventoried to date. They come mostly from private donations, and are regularly enriched by acquisitions.

Make an archive donation
The preservation of the original documents is important for the writing of history, as for the transmission of these unique traces to young generations. It therefore meets usefully the valuable conservation for these precious documents.
What steps?
If you have documents (paper archives, photos, posters, pamphlets, newspapers) and or objects relating to the Resistance and to the First and Second World War, do not hesitate to contact the museum (Keeper) 0032(02)5224041 or by email museum.resistance.verzet@gmail.com

Resistance Museum of Belgium
14 rue Van Lint, 14 Van Lintstraat
1070 Bruxelles / Brussel / Brussels
Tel: 0032/(02) 522.40.41.
info@museumresistance.be



Heures d'ouvertures:

Du Lundi au vendredi de 9h00 à 17h00
ou sur rendez-vous